Four States Dental Care
2040 LaQuesta Drive
Neosho, MO 64850
417-451-1566

Four States Dental Care
825 Hwy 60, Suite H
Monett, MO 65708
417-635-1173
Meet the Dentist
Office Visits | Patient Forms | Meet the Dentist | Meet the Team | The Game Room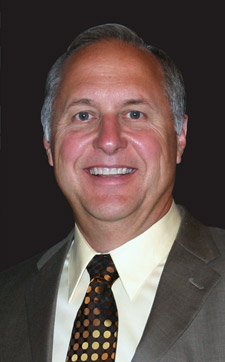 Dr. Kunkel
Hello, and welcome to Four States Dental Care! Since 1984, I have been practicing general dentistry, and to this day, I can still honestly say that I love what I do! I truly enjoy working with all of the wonderful people who come in and out of the practice, as well as the dedicated team for whom I am truly blessed to have working with me. I am a continuous learner, and for me, dentistry is a great way to challenge myself while also making a positive difference in another person's life. It is an honor, and my pleasure to work with you and your family.
As a native of Corpus Christi, TX (Texas), I have been proud to call Neosho home since 1984. My wife, Diane, and I have two sons and two daughters (along with two daughter-in-laws, and one son-in-law); our son Riley and his wife Sara, our daughter Shelly and her husband Chantz, our son Matt and his wife Stacey, and our youngest daughter, Lauren. We also are proud grandparents of four young grandchildren. I enjoy all kinds of outdoor activities, especially hunting and fishing. My wife and I live on a 238-acre ranch, where we raise commercial and registered Red Angus cattle.
Education and Internships
Bachelor of Science in Pharmacy, graduated with honors - University of Texas at Austin
Doctor of Dental Surgery (DDS) - Baylor College of Dentistry
Pharmacist intern M.D. Anderson Hospital and Tumor Institute
Staff pharmacist M.D. Anderson Hospital and Tumor Institute
Part time staff pharmacist at Presbyterian Hospital in Dallas
Continuing Education
Continuing education is an important part of dentistry, and as a dentist, I am particularly committed to staying on top of the latest dental technology. By participating in continuing education courses, I am able to continue offering my patients the most sophisticated treatment options. I have completed several continuing education and certification courses, including:
Completed CE curriculum from the Dawson Center for Advanced Dental Education
Completed CE curriculum from the MISCH International Implant Institute
Extensive studies in oral sedation at the Dental Organization for Conscious Sedation
Served on the DOCS faculty as an advanced cardiac life support instructor and ACLS course administrator
Attended an ADA approved IV sedation course at the Medical College of Georgia Dental School's Oral Surgery Department
Received a permit for IV sedation in the state of Missouri
I have recently begun several courses at the KOIS Center in Seattle, WA and will be receiving a Master's Award from the Academy of General Dentistry in the next couple of years. I have been a member of the Garden Company of Sandpoint Idaho since 2000, and I've received the Boy Scouts of America's Wood Badge for the Adult Advanced Leadership Training Program. It's a belief of mine that a person never stops learning, and I want to continue learning for the benefit of my wonderful patients, staff, and profession!
Memberships and Special Dental Recognition
In addition to continuing education, I am involved in several different dental organizations, and over the years, I have received special recognition for my work as a dentist and as a member of the dental community.
Return to Top